FISHING TRIP
Lake Ontario Fishing Guide
Charter
Promoting fishing in Lake Ontario excursion is more to promote. This privileged location of fishing is one of the few places in the world where you find trout's and salmon's in abundant quantity and quality. The weight of Chinook between 18 lbs and 25 lbs. For trout, were the "Steelhead", "RAINBOW", "SCAMANIA", "BROWN" and "TOULADI" and the average weight ranges between 8 lbs and 12 lbs. Salmon "Chinook" & "COHO", Lake Ontario are the most popular.
SylvainFishon, your fishing guide (charter) Lake Ontario know the best fishing techniques for you to maximize the orchestrated battle between you and your trophy. The ideal objective when you're on the "SYLVAINFISHON" with your fishing guide (charter) Lake Ontario, will make you live an unforgettable fishing trip.
Remember experience are made to be lived …
---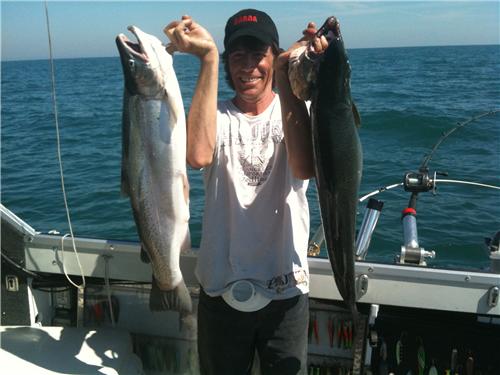 Season: June – July – August – September;
Limit – 5 salmonids and 2 Rainbow trouts
Full Fishing Day with the Charter: 900$ (4 pers)
1/2 Fishing Day: 500$ (duration 4 hrs)
An additional 150$ for the fifth person
*** New Group Discount Available ***
Pricing can changes without advice
Trip Departures from

Newcastle Port.
Departure – 6:00 am Arrival (approx.) – 15:00 pm (before if your fish limit is reach)
The fishing trip must be booked at least 2 months in advance including a deposit of 300$.
Cash or personal check address to Sylvain Thibeault only
For any cancellation notice at least 1 month before the date of the tour.
Your deposit will be refunded only if these criteria are applicable:
Cancellation made 1 month or more before your scheduled departure date;

In case of complete cancellation of the output by the captain due to bad weather, the excursion will be postpone;

If the day should be shortened due to bad weather, the price will be adjusted proportionately;

If the day should be shortened at the request of the customer (s) (sore heart, for example), the regular rate will prevail anyway.
We reserve the right to refuse certain customers for any reason whatsoever.
"Book Now, Places are Limited"
Cheers Fishing on Lake Ontario !!!
---
Directions
---
FROM QUEBEC OR MONTREAL
TO LAKE ONTARIO
Take Highway 401 west to Toronto;
Highway 401 West, exit 440,
turn left at the end of the road Turn left,
go to the marina, turn left, 35 quai
You can plan of 5.30 hours drive from Montreal.
---
Accommodations
---
Hotel/Motel
 Comfort Inn, Port Hope

Route 2211 County Road 28 Port Hope, 844-595-0364  

Motel au Howard Johnson à Bowmanville

1 chambre avec 2 lits double

100$ pour 4 personnes déjeuner inclus   Port Darlington Motel

(905) 623-4925 70 Port Darlington Road Bowmanville, Ontario Sortie/Exit 432 Liberty St. Bowmanville

$97.25 pour 4 personnes   Howard Johnson Clarington

(905) 623-3373 ou 1-800-I-GO-HOJO ou 1-888-HOTEL09 143 Duke St. Bowmanville, Ontario Sortie/Exit 432 Liberty St. Bowmanville

$109.27 pour 4 personnes
Fifth Wheel Truck Stop

(905) 623-3604 Sortie/Exit 431 Waverly Road, Bowmanville, Ontario

$71.62 pour 4 personnes   Darlington Provincial Park Camping

(905) 436-2036 ou 1-888-688-7275 ou 1-888-ONT-PARK Sortie/Exit 425 Courtice Road S., Bowmanville, Ontario  

Travelodge

(905) 436-9500 940 Champlain Ave., Oshawa, Ontario Sortie/Exit 41  

Holiday Inn

(905) 576-5101 1011 Bloor St. East, Oshawa, Ontario
*Pricing can changes without notice.
---
What to bring on board
---
You must bring on:
Your valid fishing license

(not Available on site)

Your food and beverages

Sunscreen

Your camera

Large cooler

A waterproof clothing

Warm clothing

Shoes with soft soles

Your best smile.
For seasickness, we suggest and recommend stamps, bracelet, pills of scopolamina.
The use of insecticide is defended on the boat (this product attacks the rubber and may cause costly damage to our equipment)

Please note that no liquor is allowed on the boats in the province of Ontario

The consumption of any illegal substance will not be tolerated, including the alcohol
Your catch will be cut into fillets by your Charter for free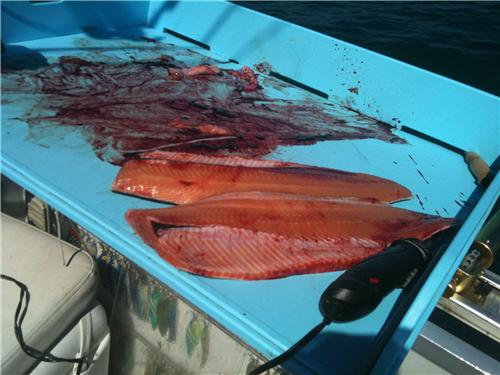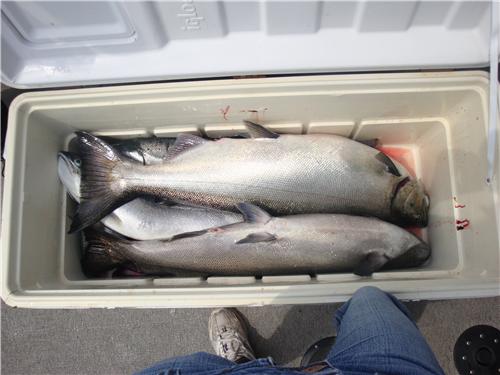 Please, bring large bags like Ziplop Freezer, that help packaging fish.
Don't forget a large cooler for travelling.
Ice is available at the Marina.
Others information's – upon request
---
Fishing License
---
Fishing licenses of Ontario are required; Not Available on Site
Fishing one day license will be available per day per person at Ontarian Canadian Tire priced around

$15

Annual permits are available for them in some Canadian Tire stores for non-residents of Canada Ontario

Please note that for children under 18 and seniors age 65 and older, a birth certificate may replace the fishing license requirement to have in your possession.

---
For more informations, contact fishing guide (Charter) SylvainFishon