FISHING TRIP
AMERICAN SHAD FISHING 
Promoting American Shad fishing excursion to Hydro-Quebec dam on Prairies river with the fishing guide (Charter) SylvainFishon is no more need to be promote. This privileged location of fishing is one of the few places in the world where you find American Shad in abundant quantity and quality.
Sylvainfishon your american shad fishing guide (charter), will then be pleased to let you know the best fishing shad techniques so that you get the most out of the fight that will occur between you and your trophy catch.
Remember experience are made to be lived …
---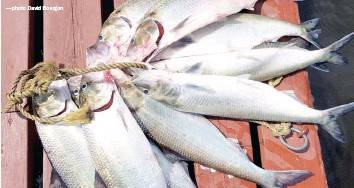 Season: May 1st to October 1st;
Limite: 5 American Shad
Fishing Day for 1 person (full day): $150
 Maximum Group of 6 person

*** New Group Discount Available ***
Pricing can Change without Advice
Trip Departures from Marina Bobino at 9100 Milles-Iles Blvd in Laval.
Departure – 6:00 am
Arrival (approx.) – 15:00 pm (before if your fish limit is reach)
The fishing trip must be booked at least 1 month in advance including a deposit of 50$.
Cash or personal check address to Sylvain Thibeault only
For any cancellation notice at least 2 weeks before the date of the trip.
Your deposit will be refunded only if these criteria are applicable:
Cancellation made 2 weeks or more before your scheduled departure date;

In case of complete cancellation of the output by the captain due to bad weather, the excursion will be postpone;

If the day should be shortened due to bad weather, the price will be adjusted proportionately;

If the day should be shortened at the request of the customer (s) (sore heart, for example), the regular rate will prevail anyway.
We reserve the right to refuse certain customers for any reason whatsoever.
"Book Now, Places are Limited"
---
Directions
---
FROM LAVAL
Take highway 440 E
Exit 34 Qc-125/Montée Masson
direction Rang du bas St-Francois/Avenue Marcel-Villeneuve
turn left on Montée Masson
Continue straight on Marcel-Villeneuve
turn left on Montée du Moulin
turn right on boulevard des Milles-Iles
Marina Bobino
9100 Boulevard des Milles-Iles,
Laval, QC, H7A 4C6
(450) 666-1395
http://www.marinabobino.com/
---
What to bring on board
---
You must bring
Your valid fishing license

(not Available on site)

Your food and beverages
Your camera
Large cooler
A waterproof clothing
Warm clothing (Winter suit, warm hats, warm gloves)
Warm Shoes
Your best smile
For seasickness we suggest stamps, bracelet, pills of scopolaminia
Your catch will be cut into fillets your free guide.
Please bring bags like Ziploc freezer, wide format, packaging and so a cooler of high capacity.
Ice is available at the marina for your trip home.
Please note: The consumption of any illegal substance will not be tolerated, including the alcohol and drugs.
Other information- Upon request
---
Fishing License
---
Fishing licenses of Quebec are required; Not Available on Site
Annual or one-day fishing license available at Canadian Tire
---